SP101® Double-Action Revolver
Caliber: 22 LR
Item Number: 5765
Condition: Factory New
Sturm, Ruger & Co., Inc. is one of the nation's leading manufacturers of high-quality firearms and the only full-line manufacturer of American-Made firearms. Among the most popular, small-frame revolvers on the market, the Ruger SP101® is engineered for solid performance.

Patented grip frame easily accommodates a variety of custom grips.
Triple-locking cylinder is locked into the frame at the front, rear and bottom for more positive alignment and dependable operation shot after shot.
Cushioned rubber grip with an Engraved Hardwood insert has no exposed metal in the backstrap, making it extremely comfortable.
Easy takedown of integrated subassemblies requires no special tools and allows for no hassle maintenance and assembly.
Patented Ruger® transfer bar mechanism provides an unparalleled measure of security against accidental discharge.
Contoured ejection port and easy-to-grasp bolt ears allow for durable and reliable operation round-after-round.
Also Includes: hard plastic case.
---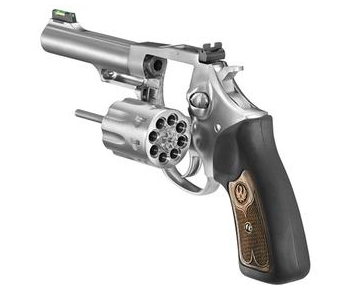 Stainless Steel with a Satin Stainless Finish
Fiber Optic Front Sight and Adjustable Rear
8 Round Capacity
9.12 inches in Overall Length (4.2 inch Barrel)
Approved for Sale in California and Maryland